Iran joint Tour
This tour has been Designed for those who love to have historical and cultural mixed with nature side of Iran, if you are not into the nature and Trekking part you may enjoy only the first part and for those who love the trekking and nature should continue for the 2th week and enjoy the whole journey
6 Departure for 2021 joint Iran tour
We have selected 6 departure for this tour for 2021 you may simply send us an email and notify us ,we will take care of the rest .dates are subject to change
1st Dep. : 08 APR 2021
2th Dep: 06 May 2021
3th Dep: 03 June 2021
4th Dep: 25 Aug 2021
5th Dep: 23 Sep 2021
6th Dep: 08 Oct 2021
Day 1– Tehran international Airport, greeting at the airport, transfer to the Hotel ( 50 KM 45MIN) O/N Tehran
Day 2– Tehran Excursion
Tehran, half day program start visiting, archaeological museum ( whit in the city) in this museum most of the unearthed Article which is discovered from the Archaeological sites in Iran are kept here, then Golestan palace , The oldest of the historic monuments in Tehran.
Golestan Palace
(Palace of Flowers) belongs to a group of royal buildings that were once enclosed within the mud-thatched walls of Tehran's Historic Arg (citadel) then drive toward qum, en route visit the tomb of Imam Khomeini, Iran revolutionary leader, in Qum we visit the shrine of masoumeh, then drive to Kashan, Over night in kashan.
Day 3– Half day tour of Kashan, visiting fine garden and tepe sialk, and one of the famous historical houses in Kashan then drive to the most Historical village called Abyaneh Village dated back to Zoroastrian period. Continue driving to Isfahan. over night Isfahan.
Day 4– Visit the most attracted city in Iran( Isfahan)
Full day program in Isfehan. visiting the famous Imam or Naghshe Jahan sq. Ali Qapu palace and Imam Mosque and 40 columns palace (Chehel soton), Jamme mosque which the construction belongs to 4 eras, then visiting then bridges of sio seh pol and khajo, the beautiful Vank cathedral and the Isfahan carpet and hand craft Bazaar .free in the afternoon for shopping.
Day 5– Toward the central part of Iran in Iran joint Tour
Drive toward yazd  320 KM in Total about 4 HRS strait driving but first we Drive for  (130 KM) to Nain, visiting one of the oldest mosques of Iran, small city tour; afterwards drive to temple of chack chack , This shrine perched beneath a cliff face in Iran is the most sacred of the Zoroastrian mountain shrines.
History of Chak Chak
Where Nikbanou, second daughter of the last pre-Islamic Persian ruler, the Sassanian Emperor Yazdegerd III of Persia, was cornered by the invading Arab army in 640 CE.Fearing capture Nikbanou prayed to Ahura Mazda to protect her from her enemies. In response to Nikbanou's pleadings, the mountain miraculously opened up and sheltered her from the invaders.The fire in the temple has been burning for thousands of years. then continue driving to Yazd O/N Yazd
Day 6– Visit the Fars Province of Iran
Yazd city tour visiting jam me mosque, then drive ( 450 KM about 6 HRS drive) to shiraz the centre of Fars province and centre of Iranian old ancient heritage ,en rout visiting the Passargard palaces the first Achemenian Capital, and Tomb of Cyrus the Great.. O/N Shiraz
Day 7 – Persian Empire ancient city
Full day program drive (50 KM) Visiting Perspolis.Naqsh-e Rostam where 4 king's tombs are located and Naqsh-e Rajab to see Sassanian base relief. In the afternoon Free at your leisure.o/n shiraz O/N Shiraz
Day 8– full day program start's in Shiraz. By visiting Karim khan citadel, Vakil bazaar for shopping and. Historical Karim khan bath Then, saadi and Hafiz Tomb, at night visiting the Holy shrine ,then flight back to Tehran to get the flight Back Home or stay in Tehran and continue the rest of journey.
Day 9– start early in the morning Driving to Haraz Road toward North of Iran (75 KM about 2.30 HRS) , going straight to the mountain for 2 HRS Trekking, to see the beautiful scenery of mount  Damavand then drive to amol by the Caspian sea and visit the beaches and continue to Kelardasht village O/N Kelardasht
Day 10– Mountain Trekking for 3HRS going from Kelardasht Village to Valasht Lake,O/N In Local Family Dinner and Local Music. O/N Kelardasht
Day 11– Drive to Anzali Port , ( 203 Km about 4 HRS) the centre of Gilan province, and Anzali port, arrive in the afternoon before the sun set we get on the boat and have 45 Minutes ride on the largest and most fascinating Lagoon in Iran( there are small boats capacity of 6-10 pax exclusively for the group ), Anzali lagoon,O/N Anzali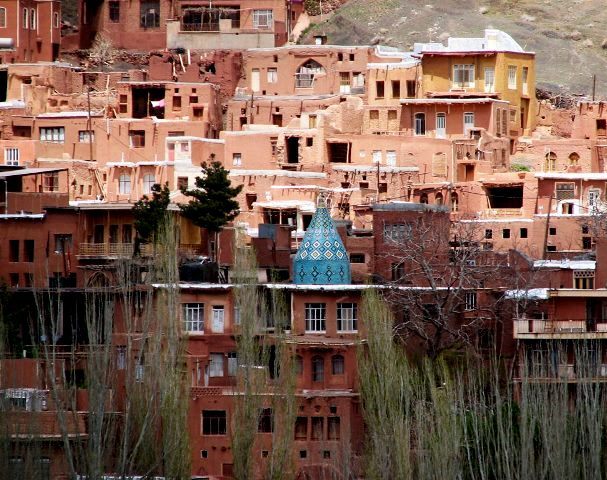 Day 12 – start early in the morning, driving to Masuleh village(about 100KM 1.30 HRS) the unique village in the mountainous area  this village is located on slope of the mountain and the roof of on house is the yard of the below house, then continues Driving (270 Km about 4 HRS)toward Ardabil located in the east Azerbaijan province.. O/N Sareyn
Day 13 – Azarbaijan Province of Iran
in the morning drive to( 25 KM about 30 min) Ardabil city tour, visiting tomb of Sheikh Safi ad-Din; then visiting the spas and swim in the big pool with mineral warm spring water boiled from underground . Sara´eyn is a small village near Ardabil by Sabalan mountain where are many type of spa for different illnesses, this village attracts thousands of Domestic tourist every year  then continue to zanjan-.O/N Zanjan
Day 14 – Drive toward Qazvin enroute  we visit the world famous brick Dome (Sultaniyeh dome) dated back to 13 centuries.then in Qazvin we will visit  tomb of Emam Hossejn, Friday mosque, madrasa Haidariye, funeral tomb of Hamdollah Mostofi O/N Qazvin
Day 15 – Drive toward Tehran if time allowe we wil visit the treasury museum and then transfer to the airport for Departure back Home ..
We provide the following services for the above program.
–    All airport transfers.
–    Transportation with new air-conditioned buses or mini buses or private car.
–    accommodation in 3-4stars hotel.
–    English speaking guide for the whole program.
–    Local guides
–    H/B services are included.
–    One domestic flight Tehran-shiraz.
CONTACT US:
Info@asemangasht.com
Iran Travel Agency